18 Jan, 2021 at 9:07 pm
#26
BlackSheep
Participant
Professional

Threads: 16
Posts: 2742
Total Posts: 2758
Join Date:
11 Feb, 2017
Location: عالمِ غیب
Re:

رہنمائی اور مدد درکار ہے

بلیور۔۔۔۔۔

سب سے پہلے تو آپ کی کہی گئی باتوں پر مجھے ذرا بھی یقین نہیں آتا کیونکہ آپ اکثر اوقات انتہائی جھوٹے ثابت ہوئے ہیں لہٰذا آپ کے قصے کہانیوں کی میری نظر میں کوئی وقعت نہیں ہے۔۔۔۔۔ ابھی کچھ ہی دن پہلے آپ مورڈن ہال پارک بھی لارڈ لوئیس ماونٹ بَیٹن کو بطور انعام دلوا چکے ہیں۔۔۔۔۔

البتہ آپ کی کہانیوں کو فکشن کے طور پر پڑھا جاسکتا ہے۔۔۔۔۔

مَیں یہاں آپ کیلئے باقاعدہ این ایچ ایس کے لنکس لگا رہا ہوں کہ کووِڈ ویکسینیشن کی کیا حکومتی پالیسی ہے اور آپ معلوم نہیں کون کون سے قصے کہانیاں سُنا رہے ہیں۔۔۔۔۔

یہ کچھ اور مستند لنکس ہیں جو گوورنمنٹ ویب سائٹ اور بی بی سی کے ہیں اور آپ کی بیان کردہ کہانیوں سے متضاد ہیں۔۔۔۔۔
Why you have to wait for your COVID-19 vaccine
Updated 15 January 2021

People most at risk from the complications of COVID-19 are being offered the vaccine first.

In the UK, there are 2 approved COVID-19 vaccines. They both require 2 doses to provide longer-lasting protection. Both have been shown to be effective in clinical trials and have a good safety record.

An independent group of experts has recommended that the NHS first offers these vaccines to those at highest risk of catching the disease and of suffering serious complications or dying from COVID-19. This includes older adults in care homes and frontline health and social care workers.

When more vaccine becomes available, the vaccines will be offered to other people at risk as soon as possible.

Eligible groups
You should have the vaccine when it is offered if you are:

living in a care home for older adults
a frontline health care worker
a frontline social care worker
a carer working in a care home for older residents
Then the vaccine will also be offered in age order to:

those aged over 80 years
those aged over 75 years
those aged over 70 years
adults on the NHS shielded patient list
those aged over 65 years
adults under 65 years with long term conditions (see conditions below)
Those aged 50 to 64 will be offered it later.

Clinical conditions list:

a blood cancer (such as leukaemia, lymphoma or myeloma)
diabetes
dementia
a heart problem
a chest complaint or breathing difficulties, including bronchitis, emphysema or severe asthma
a kidney disease
a liver disease
lowered immunity due to disease or treatment (such as HIV infection, steroid medication, chemotherapy or radiotherapy)
rheumatoid arthritis, lupus or psoriasis
have had an organ transplant
had a stroke or a transient ischaemic attack (TIA)
a neurological or muscle wasting condition
a severe or profound learning disability
a problem with your spleen, example sickle cell disease, or you have had your spleen removed
are seriously overweight (BMI of 40 and above)
are severely mentally ill
At the same time as the adults under 65 years with long term conditions the vaccine will also be offered to:

adults who provide regular care for an elderly or disabled person
younger adults in long stay nursing and residential settings
Please wait your turn. If you are not in the groups above, you will have to wait for a COVID-19 vaccination until more supplies are available. When more vaccine becomes available we will be offering it to more groups of the population.

.

.

.
یہ بی بی سی کا لنک ہے۔۔۔۔۔
Covid vaccine: When will you be eligible?

More than 3.8 million people in the UK have had at least one dose of a vaccine to protect against Covid-19.
Two vaccines – developed by Pfizer-BioNTech and Oxford-AstraZeneca – are being used in the mass vaccination programme. A third, from Moderna, has been approved but it is not yet available.
When will I get the vaccine?
Vaccines are being given to the most vulnerable first. A list of nine high-priority groups – which covers about 32 million people including 90-99% of those most at risk of dying – is being followed:
Residents in care homes for older adults and their carers
80-year-olds and over and frontline health and social care workers
75-year-olds and over
70-year-olds and over and clinically extremely vulnerable individuals
65-year-olds and over
16- to 64-year-olds with serious underlying health conditions
60-year-olds and over
55-year-olds and over
50-year-olds and over
All four nations of the UK follow these priorities, but decisions on the roll-out vary between England, Scotland, Wales and Northern Ireland
NHS frontline staff, care home residents and workers, and the over 80s have been the first priority. Nearly half of over-80s in the UK have been vaccinated.
In some areas of England, people over 70 and those considered clinically extremely vulnerable are now being invited for jabs.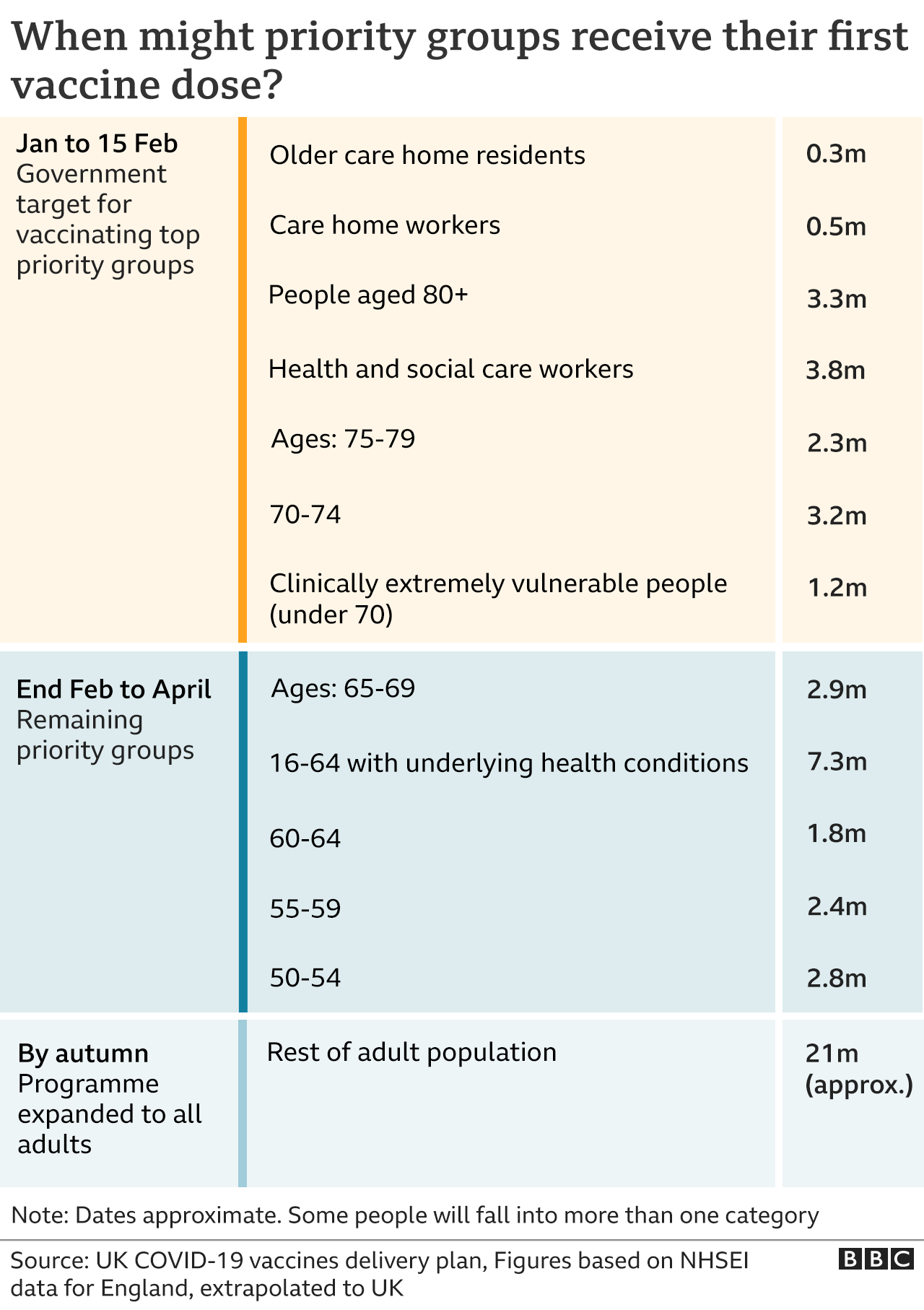 This reply was modified 1 month, 2 weeks ago by

BlackSheep

.